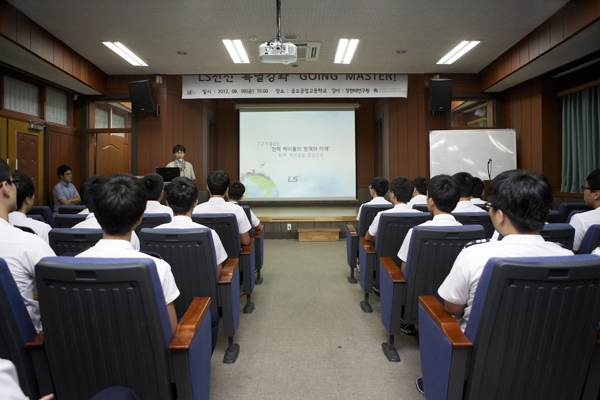 ■ Implements system covering from elementary education to professional recruitment
■ Introduces comprehensive CSR activities including contributions to local communities

Seoul, Korea, June 11st - It was announced on the 11th that LS Cable & System (Chairman & CEO: Christopher Koo) had commenced fostering professional human resources in electric power fields through a unique educational program designed by LS Cable & System to do so. The program was initiated in order to meet two goals; one is to fulfill the company's social responsibilities as a corporate citizen and the other is to strengthen competitiveness by fostering excellent human resources for the future.

Unlike other companies that provide a rather limited education, LS Cable & System has developed an educational contribution program systematically configured to cover from elementary education to recruitment. In addition, differentiated and graded education will be provided to students. At the same time, the program has a CSR component that will include local community contribution activities.

As the first step to implementing this program, local students of Gumi where LS Cable & System's plant is located will be invited to the company's training center for a specially designed "LS Cable & System Science Camp" during summer and winter breaks. In addition, by using the matching system provided by the Ministry of Education, Science and Technology, LS Cable & System will have some of its best researchers and engineers holding master's and doctorate degrees visit high schools in Gumi and metropolitan regions to provide classes titled "Understanding electricity and electric cables" once or twice a month.

In this way LS Cable & System is hoping to foster electric power professionals by signing MOUs with local vocational (a.k.a. "meister") schools, such as the Sudo Electric Technical High School, Gumi Electronic Technical High School, Kumoh Technical High School, and Gyeongbuk Machinery Technical High School. LS Cable & System has set out a policy to train outstanding students recommended by school principals to become professionals using the company's own HR development program and then to hire them as new members of the company. Moreover, as part of the efforts to make positive social contributions, LS Cable & System will organize ecological tours for children living in welfare facilities as well as cultural experience programs for children with disabilities.

"We started this program after thorough preparation and numerous trials and errors to create a systematic and substantial educational contribution program," explained Managing Director Gyeongil Park of LS Cable & System's Business Support Division. "We will continue to fulfill our role as a responsible corporate citizen by developing and implementing a variety of such visionary programs in the future."

Caption
It was announced on the 11th that LS Cable & System had commenced an educational contribution program to fulfill its social responsibilities and to foster competent human resources. On the 8th, LS Cable & System Researcher Hyeontae Jeong gave a lecture titled "Understanding power cable and electric power" to communications and electronic engineering students at the Kumoh Technical High School in Gumi-si, Gyeongsangbuk-do.